X
The
Ultimate
Brain
Performance
Enhancer
Unlock the full potential of your brain
Optimize focus, memory, speed of thought, productivity and energy.†
X™ is guaranteed to outperform Alpha Brain®, Qualia Mind®, Neuriva®, and all others
Step up to a new level of brain performance
SELECT YOUR BUNDLE AND SAVE BIG ON YOUR ORDER OF X™
SELECT YOUR BUNDLE AND ORDER NOW
Get 1 bottle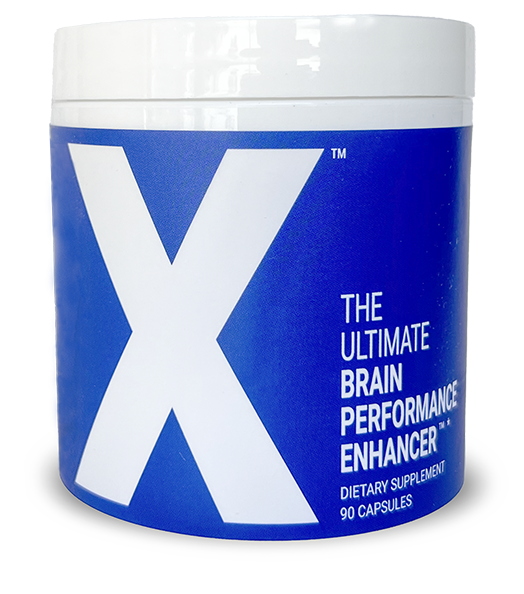 15 servings
MOST POPULAR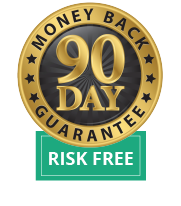 Buy 2, get 25% off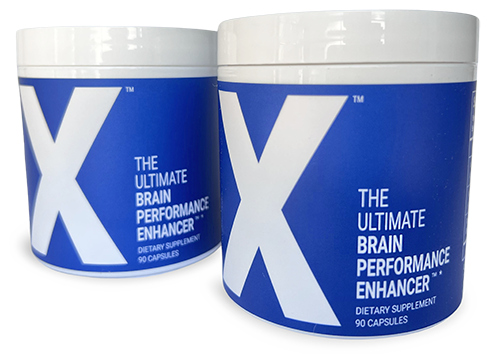 • Promotes focus†
• Supports memory†
• Enhances productivity†
• Increases time in flow state†
• Improves cognition (mental processing)†
• Elevates brain energy†
• Promotes calm†
• Caffeine Free
• Gluten Free
THIS OFFER ONLY AVAILABLE HERE
30 servings — Only
$3.10
/serving
BEST VALUE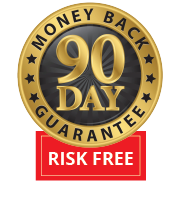 Buy 3, get 30% off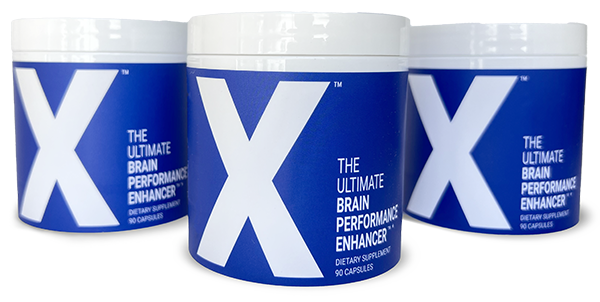 THIS OFFER ONLY AVAILABLE HERE
45 servings — Only
$2.89
/serving
Promotes Flow State
(Being "in the zone")
NO OTHER SUPPLEMENT CONTAINS THIS UNIQUE COMBINATION OF INGREDIENTS
Landing - Ingedients
Ingredient

Trademark

Per serving

Primary benefits

Alpha-GPC

AlphaSize®

300mg

Focus, attention, energy, memory, neuroplasticity.†

Choline

Cognizin®

250mg

Cognitive function, memory, focus, attention, neuroplasticity.†

Bacopa Monnieri

Bacognize®

300mg

Focus, attention, energy, memory, neuroplasticity.†

Ashwaganda

KSM-66®

300mg

Cognition and memory. Reduced stress and anxiety.†

Phosphatidylserine (PS)

SerinAid®

100mg

Overall brain function, mood, concentration.†

Rhodiola Rosea

Rhodiolife®

250mg

Focus, memory, mood, energy. Reduced anxiety & fatigue.†

L-Theanine

Suntheanine®

200mg

Calm, relaxed alertness, focus, concentration.†

Coffee fruit extract (decaf)

CognatiQ®

200mg

Brain health, memory, cognition, growth of new brain cells.†

PQQ

PureQQ®

50mg

Energy, cognitive function, memory.†

L-Levodopa
(M.P. extract)

50mg

Increases baseline level of dopamine in brain and body, supporting motivation, drive, energy and focus.†

L-Tyrosine

250mg

Motivation, drive, energy, focus.†

Ginkgo Biloba

50mg

Overall brain function, wellbeing, mood. Reduced anxiety.†

Alanyl L-Glutamine

500mg

Overall brain function, memory, cognition.†

Huperzia Serrata
(1% Huperzine-A)

5mg

Focus, attention, neuroplasticity (learning)†

Vitamin B6

10mg

Critically important to brain health and function.

Vitamin B12

500mcg

Black pepper extract

BioPerine®

5mg

Promotes bioavailability of all ingredients.

Other ingredients:
L-Phenylalanine, Uridine, Theobromine, Hypromellose, Microcrystalline Cellulose, Calcium Carbonate, Bamboo Extract, NuFlow® (rice hulls), and Leucine
Why trademarked ingredients matter

Trademarked versions of ingredients are considerably more expensive than generic alternatives.

Not all ingredients have a trademarked version. For ones that do, the manufacturer is staking its reputation on the quality and effectiveness of the ingredient.

What's more, clinical research using the trademarked ingredients proves benefits that may not exist for the non-trademarked versions of those ingredients.

When comparing supplements, always consider which ones use trademarked versions of the ingredients.
Landing - Trademarked Ingredients
| PRODUCT | NUMBER OF TRADEMARKED INGREDIENTS | PRICE PER SERVING (WITHOUT DISCOUNT) |
| --- | --- | --- |
| X™ | 10 | $4.47 |
| Qualia Mind® | 2 | $6.32 |
| Alpha Brain® Black Label | 1 | $6.25 |
| Neuriva® | 1 | $1.65 |
| Prevagen® | 0 | $3.00 |
| Alpha Brain®  | 0 | $2.33 |
| Dynamic Brain™ | 0 | $1.67 |
| Neuro Health® | 0 | $0.62 |
Our unprecedented Guarantee
We guarantee that X will deliver a greater increase in brain performance than any other supplement you've tried, or we'll buy you that supplement.
Maximum payment $75.
Limit one claim per household.
If you have questions or would like to make a claim, email us at hello@xbrain.science.
SUGGESTED USE
As a dietary supplement, adults take 6 capsules daily, with or without food.
Consult a medical doctor before taking any supplement if you are pregnant, nursing, have a medical condition or are taking any medications.
KEEP OUT OF REACH OF CHILDREN
Store in a cool dry place.
FREQUENTLY ASKED QUESTIONS
How do I know X will work for me?
How does X work?

Each active ingredient in X has its own mechanism of action, which has been proven to be effective in clinical studies.

Many of the ingredients boost levels of neurotransmitters such as dopamine, noradrenaline and acetylcholine—all three of which are critically important to focus, learning, brain energy and memory.
How long will it take for me to feel the effects of

X

?

Most people experience a benefit within an hour of taking a full serving of X.

For some people, it may require taking it for a number of days to get the desired result.

We suggest taking it for a full two weeks before judging its effectiveness for you.
How does the price per serving of

X

compare with other products?

The price per serving for X is considerably less than Alpha Brain® Black Label or Qualia Mind®, even though X contains a much larger number of active ingredients than either of those.

X is more expensive, per serving, than most other brain supplements.

X is packed with ultra-premium ingredients to maximize the benefit on brain performance.

X was formulated to be the best, not the cheapest.
Can I get my money back if I'm not satisfied?

We have a no-hassle 90-day return policy.

Simply return the unused portion for a full refund.

To get a refund, email hello@xbrain.science.
How much is shipping and how long will it take to get to me?

Standard shipping to the continental US is free and takes 3 to 5 business days.

You can also select 2-day shipping at checkout for a fee.
In rare cases (10% of the time), 2-day shipping will take more than 2 days to arrive.
† — These statements have not been evaluated by the Food and Drug Administration. This product is not intended to diagnose, treat, cure, or prevent any disease.